cleveland
City in Ohio State
Cleveland is the second largest city in Ohio after Columbus.
cleveland
state
Ohio
resident
388,072 (2015, estimated)
other value for inhabitants of Wikidata: 396815
height

199 m

tourist information web
thiscleveland.com
no tourist information on Wikidata:
location

cleveland
The Cleveland Museum of Art is the main attraction of the town on the lake, and rock music fans can also visit the Rock & Roll Hall of Fame. The zoo offers other superlatives.
background
suburbs
Cleveland includes the following districts:
West: Detroit-Shoreway, Edgewater, Cudell, West Boulevard, Jefferson, Puritas-Longmead, Kamms Corners, Riverside
Center, with the most expensive locations: Downtown, Tremont, Ohio City/Near West Side
center-south: Stockyards, Clark-Fulton (Latino district), Brooklyn Center, Old Brooklyn
Middle East: Goodrich/Kirtland Park, St. Clair Superior
East (east of E 55th St), the predominantly African-American part of Cleveland: Glenville, Forest Hills, Hough, University, Industrial Valley, Central, Fairfax, North Broadway, South Broadway, Kinsman, Woodland Hills, Buckeye-Shaker, Union-Miles Park, Mt. Pleasant, Corlett, Lee-Miles
Northeast (east of E 134th St), also African-American: North Collinwood, South Collinwood, Euclid-Green
Larger suburbs in Cuyahoga County, which are no longer Cleveland, are Cleveland Heights, Euclid, Garfield Heights, Lakewood, Maple Heights, North Olmsted, North Royalton, Parma, Parma Heights, Rocky River, Shaker Heights, Solon, South Euclid, Strongsville and Westlake. However, Greater Cleveland extends far beyond Cuyahoga County.
story
When the first Europeans appeared here in the late 18th century, the region was almost uninhabited. When Connecticut Western Reserve, the coastline of the lake was initially part of the state of Connecticut. In 1796, a port was created at the mouth of the Cuyahoga River, named after its founder, Moses Cleaveland. In 1831 - long after the founding of the state of Ohio - the "a" disappeared from the name. The economic rise began with the opening of the Ohio-Erie Canal (1832) and the connection of the city to the railway network (1851). Cleveland became an important center of the raw material processing industry, John D. Rockefeller founded his first oil refinery here in 1870. In the early twentieth century, Cleveland became the second largest location in the American automobile industry, after Detroit, with plants including Ford and General Motors.
With the opening of world markets, the steel crisis of the early 1970's, and the subsequent oil crisis, Cleveland eventually became part of the Rust Belt, whose heavy industry was no longer competitive and was disappearing. In the nineteenth century, this industry attracted large numbers of African-American workers whose descendants still live here today. Cleveland is today the only big city in Ohio with a black population, but African-Americans live almost exclusively east of East 55th St. When new jobs were created in the services sector, especially in the health sector, many black people were disadvantaged by education, and the city now has one of the highest poverty rates in the US.
Of the white population, about one fifth of Germans have ancestors.
for unanimity
Movies that you can agree to visit Cleveland include Billy Wilders The Fortune Cookie (1966, with Jack Lemmon and Walter Matthau), Christmas A Christmas Story (1983), Jim Jarmuschs Stranger Than Paradise (1984), Denzel Washington's Antwone Fisher (2002) and American Splendor (2003), after the comic of the same name by Harvey Pekar. Readers may prefer Jo Sinclair's novel The Changelings (1955).
arrival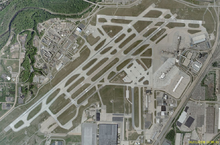 By plane
A good quarter of an hour southwest of Downtown is the Cleveland Hopkins International Airport (CLE), which is served from Chicago, Charlotte, Detroit, JFK, Philadelphia, Newark and Toronto. If you are coming from Europe, you have to change your plane on the way.
by train
Cleveland has an Amtrak Station, the Cleveland Lakefront Station (200 Cleveland Memorial Shoreway). Here you can find the Capitol Limited line (from Washington, D.C. to Chicago).
By bus
The Greyhound station has the address 1465 Chester Ave. The city is a hub for several lines. Without changing the bus you can travel from here to Toledo and Detroit, Columbus and Cincinnati, Pittsburgh, Erie, Buffalo, Rochester, Syracuse, Albany and New York City.
On the street
Cleveland is located at the intersection of Interstate Highways 71, 77 and 90, 9-10 hours from New York City, 5½ hours from Chicago and 2 hours from Pittsburgh.
By ship
A ferry connection from Cleveland via the Ereiee to Detroit or Canada would be a nice idea, but unfortunately there is no one. With Goodtime III, the largest excursion boat in the city, you can even cruise around the lake.
mobility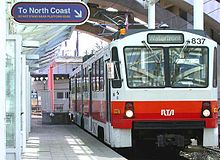 The Greater Cleveland Regional Transit Authority operates a very extensive network of S-Bahn trains, buses and trams in and around Cleveland. Tickets starting at $2.50, 1-, 2-, 4- and 7-day passes (stand: 24 May 2017).
Parking in downtown can be a little expensive. If you want to find out more about the cheapest options in advance, you can do so with the Parkopedia. At weekends, for example, you park at the Justice Center Lot 1 (1242 W 3rd St); if the pool is full, try it in the very large Memorial Plaza Garage (300 St Clair Ave).
sights
museums
A Christmas Story House,

3159 W 11th St

. In a residential district about 10 minutes south of downtown, there is the one-family house where Bob Clark's feature film A Christmas Story was shot in 1983.

The house can even be hired by hard-bodied fans of the film.

Opened:

daily from 10 a.m. to 5 p.m.

Price:

$11 (children 3-12 years $7, elderly $9).

Cleveland Museum of Art,

11150 East Blvd

(

a quarter of an hour east of downtown

).

It is considered the top tourist attraction of Cleveland and certainly one of the most visited museums in the world.

Excellent collection of Asian and ancient Egyptian art.

Opened:

Di, Thu, Sa, Sun 10-17, Mi+Fr 10-21, Mon closed.

Price:

Admission free.

Cleveland Museum of Natural History,

1 Wade Oval Dr

(

a quarter of an hour east of downtown

).

Opened in 1920 and housed in a modern two-story building, the Cleveland Museum of Natural History.

Crawford Auto-Aviation Museum,

10825 East Blvd

(

a quarter of an hour east of downtown

).

Museum of Transport with an eclectic collection of historical means of transport, including unusually many more than 100 years old.

Rock & Roll Hall of Fame,

1100 E 9th St

(

Downtown, right by the water

). The museum on the history of rock music.
USS Cod Submarine Memorial,

1201 N Marginal Rd

(

on the shore

).

A submarine used in the Pacific during World War II and now used as a museum.

Opened:

daily from 10 a.m. to 5 p.m.
The Baroque Gallery at the Cleveland Museum of Art

Cleveland Museum of Natural History

Cleveland skyline, front of the Rock & Roll Hall of Fame

Crawford Auto-Aviation Museum
quarter
Asiatown,

east of I-90-Exit 173C

.

Since the 1990s, the district of St. Clair-Superior has been populated by an increasingly wide range of East and South Asians, who have numerous cultural institutions and restaurants.

The photographic ambiance of a traditional Chinatown is missing, but the area is always a great place to eat.

Little Italy,

Mayfield Rd and cross roads east of Little Italy/University Circle S-Bahn station

.

art galleries and restaurants.
For viewfinder
Terminal Tower,

50 Public Square

.

The best address for those looking for a view is the viewing platform on this 235 m high office building, which was the second highest in the world at the time of its completion (1930).

It is only dominated by the Key Tower today.

The access to the panoramic deck is limited, as there are lawyers who do not want to be disturbed.
park
In and around Cleveland there are a number of very beautiful city and nature parks - partly on the water, partly on the inland with beautiful hiking trails - which you can find here, among other things.
Cleveland Botanical Garden,

11030 East Blvd

(

close university, a quarter of an hour east of downtown

).

Cleveland's botanical garden, the jewel of which is a 1,700 m² greenhouse built in 2003, the Eleanor Armstrong Smith Glasshouse.

Opened:

Tue-Sat 10-17, Mi until 21, So 12-17, Mon closed.

Price:

$12, children 3-12 years $8.

Cleveland Metroparks Zoo,

3900 Wildlife Way

(

a quarter of an hour south of downtown

).

Opened in 1882, the zoo is 74 hectares in which you can admire one of the largest collections of primates in North America.

Especially attractive is the open-air enclosure of the Black and White Stummelape (Colobus).

Another highlight, worth a visit, is the rainforest complex, one of the largest in the world, with its two floors.

Opened:

daily 10-17 hours.

Price:

$14.25, children 2-11 years $10.25, senior citizens $12.25.

Lakeview Cemetery,

12316 Euclid Ave

(

a good quarter of an hour east of downtown

).

One of the city's main attractions is this very large cemetery, built in 1869, which follows the Victorian-era horticultural ideas.

Among the VIPs whose graves you can visit here are James A.

Garfield, who served as President of the United States from 1881 until his assassination that year, was the oil billionaire John D.

Rockefeller and comic writer Harvey Pekar.
Air view on the banks of the lake and downtown Cleveland

The Cleveland Botanical Garden

At the Cleveland zoo, you can see black and white trimmings.
activities
purchase
Old Arcade,

between 420 Superior Ave and 401 Euclid Ave

(

Downtown

).

Historical shopping carcade, built in Victorian style in 1890.

The five-story complex, covered in a glass roof, is worth a visit, although most of the shops are currently empty.

Tower City Center,

230 W Huron Rd

(

Downtown

).

The biggest shopping mall in the city of Cleveland.

Nearly 90 shops, service providers and restaurants on 3 floors.

West Side Market,

1979 W 25th St

(

5 minutes southwest of downtown

).

A traditional market hall opened in 1840 and still in operation today.

The building is now protected as a historical monument.

Over 100 market positions.

Wonderful shopping opportunities also for ethnic foods.

In the surrounding area there are several large and smaller car parks, including Lorain Ave between 28th and 29th St.

Opened:

Mon+Mi 7-16, Fri+Sat 7-18, Sun 10-16;

Di+Do closed.

kitchen
A must-eat in Cleveland is Polish cuisine such as that available in Sokolowski's University Inn (1201 University Rd, 5 minutes south of downtown). A sweet local specialty is Coconut Bars, for example in Presti's Bakery & Cafe (12101 Mayfield Rd, a good quarter of an hour east of downtown).
In addition, the city also offers an impressive selection of other ethnic restaurants. Here are some examples that are highly rated in the TripAdvisor:
favorable
Bombay Chaat,

2044 Euclid Ave

(

Downtown

).

Indian restaurant with lunch buffet and very good value for money.

Pho Thang Cafe,

815 Superior Ave

(

Downtown

).

Vietnamese restaurant with excellent value for money.

An alternative is the 5 superior Pho (3030 Superior Ave) located north-east of downtown.
Steve's Gyros,

1979 W 25th St (West Side Market)

.

The highest rated fast food supplier in the TripAdvisor is this gyros stand, where the meat actually comes from the rotating barbecue, unlike in the USA.

Due to the very strong demand, it is best to arrive early in the morning.
means
Hofbräuhaus Cleveland,

1550 Chester Ave

(

Downtown

).

Authentic Bavarian cuisine in an atmospheric Schunkel ambience.

Li Wah,

2999 Payne Avenue

(

Asiatown, just 10 minutes north-east of downtown

).

The classic Dim Sum restaurant where the waiters will drive around these Chinese appetizers on service cars, so that you don't have to order the menu but can take what looks delicious.

Sum is only available for lunch.

Phnom Penh,

1929 West 25 St

(

5 minutes southwest of downtown

).

Small restaurant with Cambodian and Vietnamese cuisine.

Santorini Greek Taverna,

1382 W 9th St

(

Downtown

).

If you like Greek cuisine, you can find the most promising selection of dishes in this downtown area near the Cuyahoga River.

(Menu) An alternative is the It's Greek to You (230 W Huron Rd menu).
Slyman's Deli,

3106 St Clair Ave NE

(

Downtown

).

This kosher delicatessen store, where you can also eat, is considered the top restaurant address in Cleveland.

If you are curious about local cuisine and don't stay long enough in Cleveland to visit several restaurants, choose this one and try the Reuben sandwich.

Corned Beef is a must in Cleveland.

Price:

sandwiches between $7-16.

Taza - a Lebanese Grill,

1400 W 6th St

(

Downtown

).

Popular restaurant with Lebanese cuisine.
walking
Balaton Restaurant,

1313 Shaker Square

(

a good quarter of an hour east of downtown

).

Quite unusual in the American province:

a Hungarian restaurant.

Price:

Main dishes $20-26.

Empress Taytu Ethiopian Restaurant,

6125 St Clair Ave

(

10 minutes northeast of downtown

).

If anyone thinks of Ethiopian cuisine.

L'albatros,

11401 Bellflower Rd

(

near university

).

Excellent restaurant with classic French cuisine.

Try the cassoulet.

Price:

Main dishes $18-27.

Sung's House,

1507 Euclid Ave

(

Downtown

).

Despite the Chinese name, a sushi restaurant.

There are a number of excellent Japanese (sushi) restaurants in Cleveland in a moment, and those who love these cuisine should not miss this opportunity and take a look at the TripAdvisor for example.
nightlife
accommodation
favorable
Motel 6 Cleveland - Middleburg Heights,

7219 Engle Rd, Middleburg Heights

(

near airport

).

chain motel with cheap and simple but modern rooms.

no breakfast;

just 1 block away (7175 Engle Rd), however, you will find a Perkins Restaurant & Bakery that serves breakfast.

If an egg or pancakes breakfast is too heavy, you can also have breakfast in Dunkin's doughnuts, Starbuck's or Panera.

Price:

from $64.
means
InterContinental Suites Hotel Cleveland,

8800 Euclid Ave

(

a quarter of an hour east of downtown

).

Good chain hotel (IHG) on the edge of the hospital.

162 rooms and suites on 7 floors.

Some units can accommodate up to 5 people.

Price:

Parking $18 extra.

Sonesta ES Suites Cleveland Airport,

17727 Rosbough Dr, Middleburg Heights

(

close to the airport

). Chain hotel, whose two-story Two Bedroom Loft Suites offer not only sleeping space for up to 5 people, but also a fireplace, a fully equipped kitchen and 2 bathrooms.

There are also smaller units.

outdoor pool and tennis court.

Airport Shuttle.

The 158 units are housed in 14 separate houses.

The hotel, which until 2010 was a Residence Inn of the Marriott chain, is located in a business area on the edge of the motorway, close to several chain restaurants.

Excellent value for money.

Price:

Buffet breakfast included.
walking
Residence Inn Cleveland Downtown,

527 Prospect Ave E

(

Downtown

).

Apartment hotel of the Marriott chain.

Price:

Buffet breakfast included;

Parking costs $29 extra.
daily

Louis Penfield House,

2203 River Rd, Willoughby Hills

(

a half hour northeast of Cleveland

). One of the most remarkable leasable quarters around Cleveland is this one-family house, the so-called Usonian, built in 1955 according to a design by the American cult architect Frank Lloyd Wright.

Located on a large wooded property on the Chagrin River.

2 nights minimum.

More Wright houses that can be rented can be found at www.curbed.com.
See also: Ohio/Frank Lloyd Wright
learning
work
safety
health
Practical information
excursions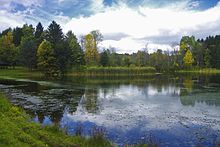 Cuyahoga Valley National Park, half an hour south of Cleveland